Service Desks for Azure DevOps
Power your service desks from Azure DevOps with TicketLog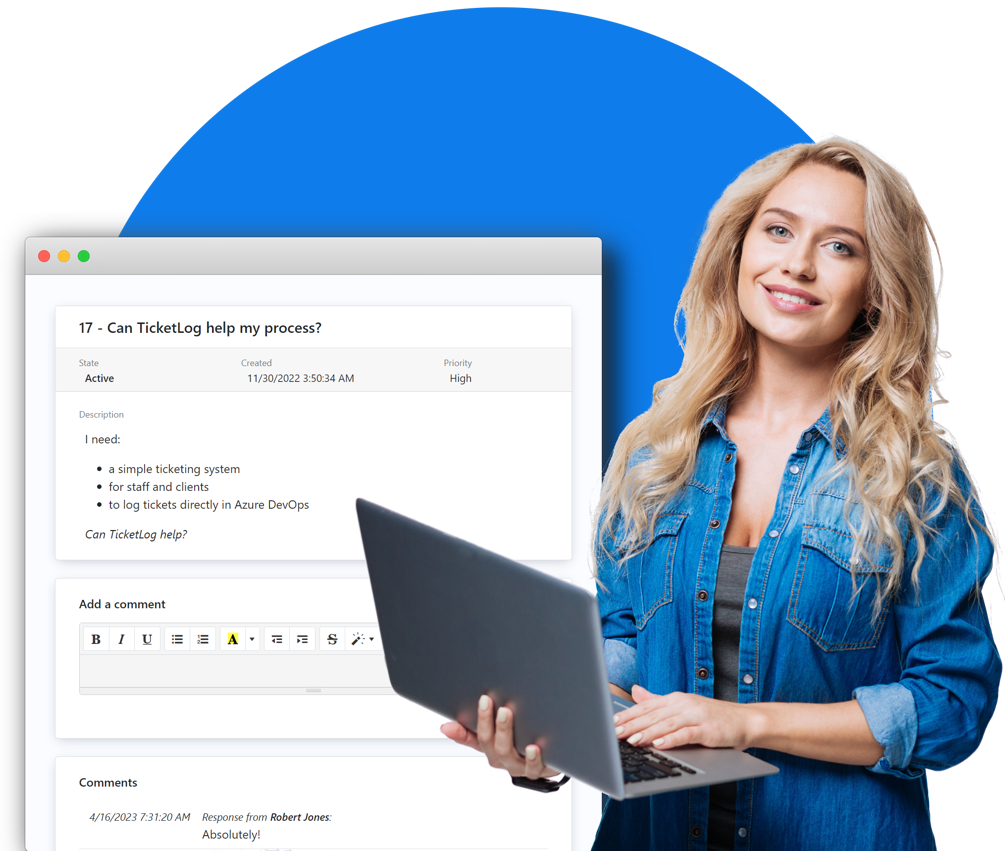 No need for a separate ticket system!
TicketLog works directly with Azure DevOps, reducing the cost and complexity of help desk workflows.
Upgrade to TicketLog PRO :
Custom branding
Custom domain name
100 users per desk
Need more? Tell us!
Get started now
Sign up to TicketLog
Name your Service Desk
Authorize your Azure DevOps connection
And you're done!
Now pass the unique portal URL to your users and watch as new tickets appear directly in your Azure DevOps project.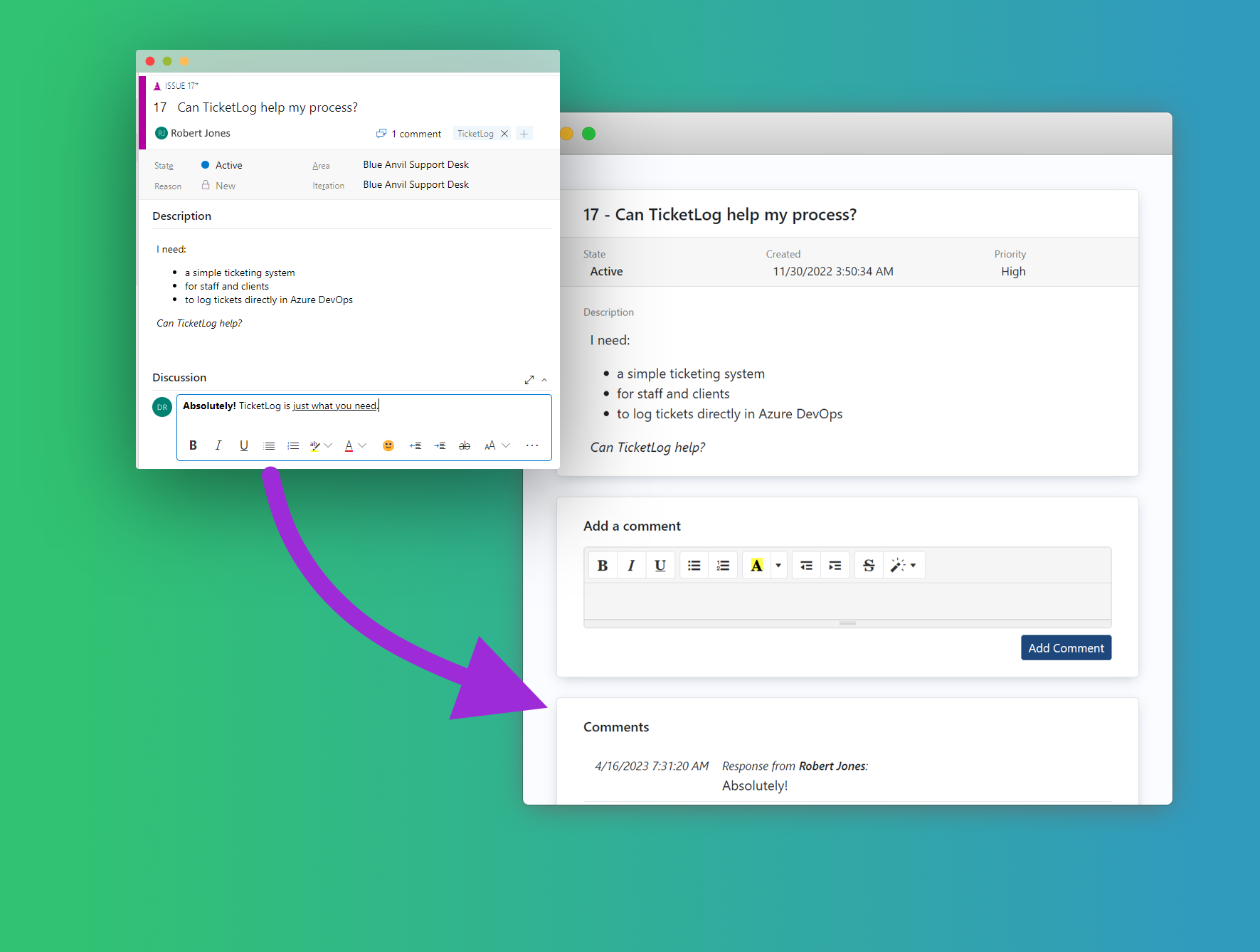 How does TicketLog work with Azure DevOps?
TicketLog provides a web portal for users to submit and view tickets that are stored on an Azure DevOps instance.
New tickets are added directly to your nominated DevOps Board. TicketLog users receive email notifications when service agents add comments via the Azure DevOps site. Users can also add their own comments via TicketLog portal.
TicketLog users must register an account before they can interact with tickets. As a Service Desk Admin, you have the option to make your Service Desk public to everyone, or restricted to invited users only.
What are the use cases for TicketLog?
TicketLog is great for IT Managed Service Providers who want to host service desks on behalf of their clients. It's even possible to host multiple Service Desks on separate domains, all linked to a single Azure DevOps board, with each ticket tagged according to source customer.
TicketLog is also great for software development teams who service staff and customers with support requests, and who already have Azure DevOps deployed.
By leveraging Azure Devops, you can save on costs and reduce complexity of your workflows. Operating a dedicated support desk platform can be expensive, introduces a second ticket numbering system, and requires support staff to juggle multiple platforms.
With TicketLog, your support team has all information in one place, and all team members can access support tickets at no extra cost.
How do TicketLog PRO subscriptions work?
TicketLog desks are limited to a number of end users, not by the number of support agents. All your support agents have access to all support tickets in Azure DevOps, as per your DevOps configuration.
A TicketLog PRO subscription entitles you to upgrade a service desk to PRO tier, for a recurring monthly fee. Upgraded service desks have increased end-user limits, and offer additional features such as custom domain and logos.
Subscriptions are attached to the purchasing user, who then allocates subscriptions to any service desks they have Admin access to.
What is Azure DevOps?
Azure DevOps is a project management platform provided by Microsoft for IT project management. It provides software repository, delivery pipeline, and workitem management tools.
TicketLog creates tickets directly in the Azure DevOps workitem management tool.